Hello Friends, Congratulations to the Goldstar winner #70 Susan Killiam and the Remarkables Winner: #24 Guro & #34 Chelsea
I am thrilled to have had this last year to share laughs and tears with them. Two of our lovely ladies will be leaving the group to peruse other avenues. Sue and Jane, it has been my honor to work, create and brainstorm with you these last few months and it sadness me that this is your last challenge as one of our MMDT members. You will always be one of the "Original" Midnight Madness Team members and a huge part in its development. Have fun with your new adventures wherever they take you!!!
Now that being said, we have been working hard picking out our newest DT members. Thank you to all of you who sent in applications. Next week we will reveal the first two of our New Design Team members. We plan on adding a few more "3 month termers" over the next few weeks and we are very excited about bring some new talent to our challenges. I would like to thank Sue Drees. She was an awesome March Diva and we really enjoyed her contributions to our challenges these last few weeks!!
I'm enjoying a lot of 1950's music lately, big band era, love the songs and it has helped me create using Famed Artist Al Buell's artwork. My husband bought me a "1950s Pin Up" Book and it's giving me some inspiration :)
My card (click for larger pic):
following sketch: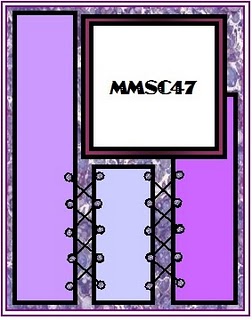 This week our sponsor is the same as the Monthly sponsor-
Priscillastyles
I used
Priscillastyles Template kit 6x6
I used my envelope template with Thick cardstock... which if you try to cut using X-acto knife.. it's really hard to cut through.. you can tell my oval shapes aren't perfect :) But I wanted a window for it, so you can see the beautiful girl.
Some pearls and Prima flowers, available at
McMahon5Design
. Paper:Basic Grey - Boxer Ribbon: from Michaels.
Thanks for stopping by, xox ~Jeni