Hello Crafter Pals, This month of Mar is Terrific to stop by Midnight Madness because the entire DT is showing off Priscilla's EnvelopeBox Kits. So with every sketch card there is a box to see :) Priscilla is our sponsor for Mar. See what she's giving away as a prize.
Congrats to the winner of the Gold Star Award: 48. Vicki
Our Remarkables Award this week goes to...
3. Lesley aka Super Nan
9. Ms Plum
51. Darsie Bruno
For my set: ( please click for larger)
following sketch MMSC43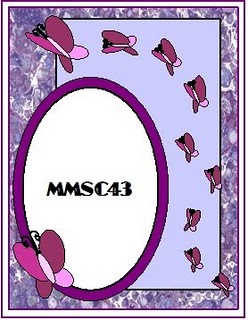 I also followed the rules for:
CBC85 - Belli Challenge - butterflies
CCC56 - Crafty Creations - Pop up
CTD81 - Brown Pink White Olive
FlutterbyWed98 - Butterflies

This week I used a
D'Amour Allure Stamp - Melissa
and colored it with Tombows for the Card image. On the envelopebox image I used Copics. This kinda shows a subtle difference. It feels like the Copics are not a intense but I'm not an expert on it, so maybe it could have been more intense if I chose different colors. However the copics blended better and gave a softer feel to Melissa.
I also used KaiserCraft Paper from
McMahonFive Design
and Diamond glitter from Michael's Craftstore. MS punch on the bottom of the boxes, Stempelglede stamps for the edges in SU Old Tyme and Light green color. Butterflies are from Hero Arts - Antique Engravings 4x6 set. And
Priscilla's Slide Box Top
Next week will be even more fun when I get specialty cardstock for the boxes.. They will be more colorful :)
Our sponsor of the week: "
Sunshine and Giggles
" Thank you, Janice for your terrific prize for sponsorship.
Our March Monthly Sponsor is - The
"priscillastyles" Store
"In celebration of my new Store, I am going to be the March Monthly Sponsor. How fun is that? My New store features "priscillastyles" customizing kits and my "Dabbling with Digi's" digital stamp images. In addition to this Monthly prize, I would like to give away any item from my store to one lucky winner just for following my store blog - Priscilla"
March month end prize:
O'Scrap Pocket Organizer
6x6 "priscillastyles" Envelope Kit
Chic Ribbon Chest in Pink
The ScrapMaBob drink holder
Thanks for stopping by, hugs ~Jeni